Here is the Victoria statue in front of Kensington Palace.
"A woman ruler in an age when women didn't have a voice in politics. Can you imagine the strength she must have had?" she asked, turning to Edwin.
Edwin looked up into the face of the monarch. "She reminds me of my mother," he replied, surprised by that revelation.
"Mine, too," murmured Adriana, turning away.
-from Pedestal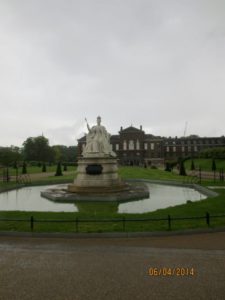 A view of the Orangery from the Sunken Garden.
The King's staircase with artwork by William Kent.